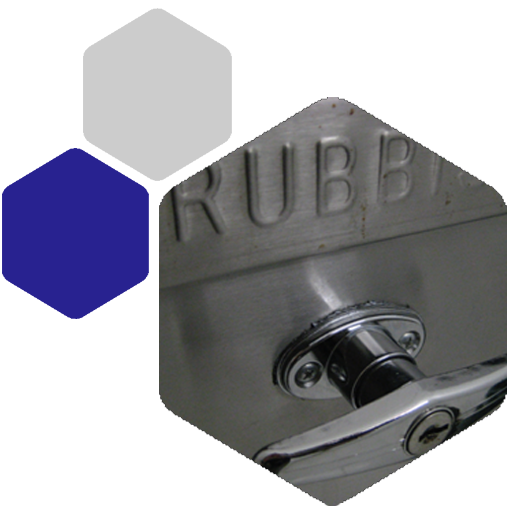 Trash Chutes From Kasl Enterprises
Trash chutes are used in high-rise residential apartment units to transport garbage to a lower level for collection in a container or trash compactor. Our trash chutes meet all NFPA-82 National Standard codes and the intake doors are U.L. approved. Unique spiral chute sections provide a chute that is up to three times quieter than our competitor's chutes.
Made in the USA!
Underwriters Laboratories "B" label doors.
"T" handles with cylinder locks on all intake and access doors.
Durable shaft hinges on all bottom hinged doors.
20 ga. stainless steel door fronts and 18 ga. aluminized steel backs.
Intakes with drywall and masonry brackets to assure plumb secure doors.
Intake design eliminates the need of fire sprinkler shields.
Bolt together straight sections instead of slip joints.
Spring loaded horizontal rolling discharge doors to assure positive closing.
Corrosion resistant and rust proof aluminum roof flashing and vent.
Use of spiral pipe for superior strength and sound reduction.
Our Trash Chutes Contain:
Intake sections with specified door installed on unit.
Spiraled expansion sections to make up balance of floor height.
Angle iron floor braces to support the chute.
Outlet door equipped with fusible link to close in case of fire.
Full diameter vent to extend four feet above roof level.
Sprinkler and sanitizer flushing head at the top of chute.
Additional sprinkler heads at every other floor.
Options Available:
Handicap lever handles.
Rubber baffles on doors to protect from back draft.
Sanitizer with proportioner valve on top floor to clean chute.
Steel fire stops to close up area around the chute at the floor level.
Key locks with keys non removable when unlocked.
Electric interlocks so only one door can be opened at one time.
Heat and smoke detector to lock doors in case of fire.
Electric discharge door release to close door when signal is received.
We guarantee all our products for one year.
Click the button below to get our FREE guide: "Building the Right Chute: How to Plan for Commercial Laundry and Trash Chutes."
Have Questions?
Contact Kasl Enterprises today for your custom chute solution!